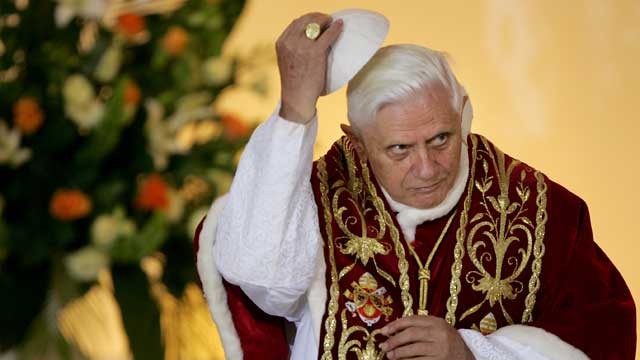 VATICAN CITY – With a few words in Latin, Pope Benedict VXI did Monday what no pope has done in half a millennium, announcing his resignation and sending the already troubled Catholic Church scrambling to replace the leader of its 1 billion followers by Easter.
Not even his closest collaborators had advance word of the news, a bombshell that he dropped during a routine morning meeting of Vatican cardinals. And with no clear favorites to succeed him, another surprise likely awaits when the cardinals elect Benedict's successor next month.
St. Malachy predicted Pope Benedict's successor will be last pope
Irish bishop's 12th century prophecies end after this next pope
Published Monday, February 11, 2013, 1:47 PM
Updated Monday, February 11, 2013, 1:57 PM
The Irish prophet Saint Malachy has predicted that the next Pope after Benedict will be the last and he will be "Peter the Roman, who will nourish the sheep in many tribulations; when they are finished, the city of seven hills will be destroyed, and the dreadful judge will judge his people. The end."

The prophecies of the Irish saint Malachy, the 12th century bishop of Armagh have thrilled and dismayed readers for centuries. He has stated there will be only one more pope after Benedict, and during his reign comes the end of the world.

The prediction in full is "In the final persecution of the Holy Roman Church there will reign Peter the Roman, who will feed his flock amid many tribulations, after which the seven-hilled city will be destroyed and the dreadful Judge will judge the people. The End."

Experts say it could refer to an Italian pope who would take Peter's name.